Time:

Monday, October 31st,

10:30 am

to

12:45 pm
Location:

Buses depart from Omni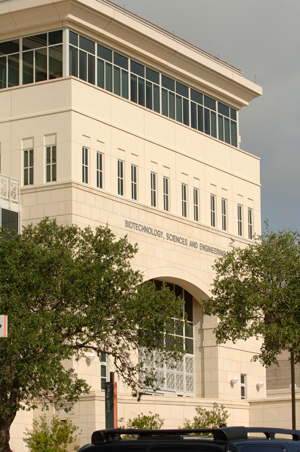 Dean Perry (College of Science) and Dean Browning (College of Engineering) will be present to welcome two sets of tours at the UTSA Main Campus. Each lab visit will be 20 minutes, with 10 minutes for questions and 10 minutes in between for travel time. 
This tour will feature the biology set: 
10:45 a.m.: Teja Guda – The biomedical engineering laboratory of Teja Guda has a rare piece of equipment that can print tissues and potentially regenerate organs. The device works similarly to a 3-D printer and is the only one in Texas, as well as one of very few existing at universities in the United States. The device is capable of printing cells and keeping them alive, allowing it to print living organs for regenerative medicine research. 
11:25 a.m.: Janakiram Seshu – The Seshu lab tour will show that UTSA is leading the way in infectious disease research. An associate professor at the UTSA South Texas Center for Emerging Infectious Diseases, Dr. Seshu will give a demonstration of student-led research, including exciting new work with cholesterol medication that could stop the spread of Lyme disease. 
12:05 p.m.: Matthew Gdovin – The Gdovin lab tour will consist of an introduction to innovative technology to use photodynamic therapy to effectively kill cancers, beginning with Dr. Gdovin's tissue culture facility, a room designated to the growth and maintenance of cancerous cells in an incubator. Visitors will also see the cancer cells dying in real time through a high-powered microscope and how the Gdovin lab is working to bring this treatment closer to human clinical trials.