Time:

Monday, October 12th,

8:00 pm

to

10:00 pm
Location:

Oberon Theater, 2 Arrow Street, Harvard Square, Cambridge. Attendees are responsible for their own travel to Harvard Square. Admission at the door by will-call based on purchase at registration.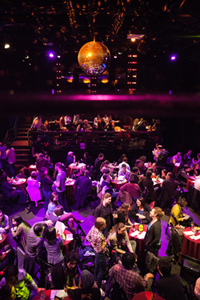 The Story Collider is a live show and podcast featuring true stories about science, told live on stage. The podcast has been downloaded over one million times, and shows take place monthly in Boston, New York, and other locations.
Participants in this special field trip to the Oberon Theater in Harvard Square, Cambridge, will be able to enjoy a special ScienceWriters2015 edition of the show including NASW members as storytellers.
If you're feeling bold and you'd like explore the booming world of spoken-word performance, this could be your chance to put theory into practice! You'll have plenty of help; Story Collider producers will work with you personally to make your story great.
Stories are not lectures – they have a beginning, middle, and end, in which the storyteller undergoes a change. Stories are typically 8-10 minutes long and can be about anything from how you first fell in love with science to how your work has affected your personal life to challenges you've faced in your work.
For a chance at telling your story on stage, send a short pitch to stories@storycollider.org with "ScienceWriters Pitch" in the subject. The deadline for pitches is Sept. 4.
"The tones balanced stand-up funny and powerfully confessional … The crowd's reactions veered from belly laughs to pin-drop silence."
— Andy Beta, The Wall Street Journal
"The experience was incredibly cathartic, and having people come up to me afterwards and tell me how interesting and moving they found my story was as gratifying as any compliment I have ever received about my research."
— David Carmel, Nature
We've reserved all of the tickets for this performance at the the Oberon Theater, an intimate space with a capacity of only 185. So register early to get your name on the will-call list (no separate ticket required).
Note that the Oberon has 170 chairs, tables, and stools, and a standing-room pocket for 15 people. Seating will be General Admission, first come first served. Doors open at 7:30 p.m for the 8:00 pm performance.
Guests are required to make their own way to Harvard Square for this performance. The Oberon, at 2 Arrow Street, is a 1.5-mile / 30 minute walk from Kresge Auditorium, and a 1.7-mile / 35-minute walk from the Hyatt Regency Cambridge. Alternatively, walk to the MBTA bus stop near Massachusetts Ave. & Albany Street and take the #1 bus to Harvard Square (28 minutes, $2.10).
There are no physical or electronic tickets; admission by will-call at the theater door, based on the list of conference participants who bought tickets at registration.