Time:

Tuesday, October 13th,

9:30 am

to

12:30 pm
Location:

555 Technology Square, Cambridge, MA (Bus departs from Hyatt Regency Cambridge)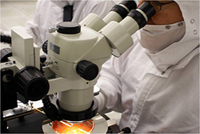 As an independent, not-for-profit engineering research and development organization, Draper Laboratory serves the interests of customers in fields such as national security, space, biomedicine, and energy. The lab leverages core capabilities in guidance and navigation, information and decision systems, high reliability systems, sensors and control, and integrated micro systems to deliver field-ready, innovative solutions. Known until 1970 as the Instrumentation Laboratory, the facility began as a teaching laboratory at MIT, and is famous for developing the guidance systems and software for the Apollo missions to the Moon. Attendees will learn about Draper's current work in areas including:
GENIE: Draper's Guidance Embedded Navigator Integration Environment (GENIE) enables NASA to test new planetary landing instruments aboard suborbital rockets, rather than more expensive space launches. The lab is applying similar technology to help smart drones operate safely and reliably while performing tasks such as delivering packages, inspecting pipelines, and taking photos over cities.
Bioelectronics: This laboratory is used to develop and test electronic systems that measure and process physiological signals to provide neurological and muscular stimulation. These capabilities enable the development of new therapies to treat conditions beyond traditional drug treatments. The work done in this lab is often performed in collaboration with major hospitals and research facilities in the Boston area.
Human Centered Design & Engineering: This lab conceives and develops approaches to aid in the performance of both cognitive and physical tasks through the application of sensors, effectors, and computational technologies. The team applies these technologies to develop a new class of information presentation devices, including balance and directional guidance here on Earth.
A bus will meet tour participants in the Hyatt Regency Cambridge lobby promptly at 9:30 am for the short drive to Draper Laboratory.