Time:

Sunday, October 11th,

7:00 pm

to

10:00 pm
Location:

The Boston Globe, 135 Morrissey Blvd., Boston (Buses depart from Hyatt at 6:40, 6:50, 7:00, 7:20, and 7:40 pm; one bus departs from Fairfield Inn at 6:40 pm)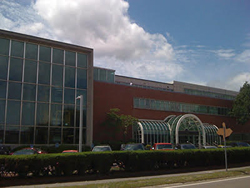 The traditional ScienceWriters Sunday night bash is hosted this year by STAT, a new national health and science publication from Boston Globe Media,
Expect drinks, hors d'ouevres, and music in the swank three-story atrium at Boston Globe headquarters, where you'll also be able to tour the newspaper's printing press and the Stat newsroom. For more details see this blog post.
Several waves of buses will depart from the Hyatt Regency Cambridge, at approximately 6:40 pm, 6:50 pm, 7:00 pm, 7:20 pm, and 7:40 pm, for the 20-minute ride to the Boston Globe building at 135 Morrissey Boulevard. For attendees staying at the alternate hotels, a single bus will depart from the Fairfield Inn at 6:40 pm. 
Registered party guests can also reach the Globe building by car or public transportation (take the Red Line toward Ashmont/Braintree and disembark at the JFK/UMass stop, then walk five minutes).
The party is open to registered ScienceWriters2015 attendees only, and is completely sold out; unfortunately we cannot accommodate spouses or significant others.
ScienceWriters2015 Gold sponsor and special event sponsor: STAT.
Music sponsors: New England Science Writers and Jackson Laboratory.