Time:

Monday, October 12th,

10:30 am

to

2:00 pm
Location:

8 St. Mary's St., Boston, MA (board bus at Kresge Lobby at 10:30 am; 10-minute ride to Boston University)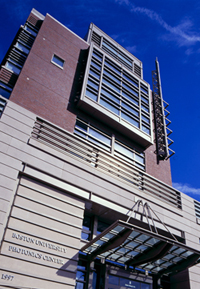 Researchers at the Boston University Photonics Center specialize in the science and engineering of light, developing advanced photonic device prototypes for commercial, military, and healthcare applications. Ground-breaking research conducted at the Center includes work on science and technology for solid state source and detector materials, quantum cryptography, subsurface imaging, adaptive optics, micro-opto-electro-mechanical systems (MOEMS), high-speed modulation and sensing, bioorganic chemistry, nanophotonic devices and biomedical applications of photonics.
[Updated and corrected 8/20/15] Photonics Center director Thomas Bifano will begin the visit with a brief presentation about the Center's thriving research programs in photonic materials, imaging, nano photonics, biophotonics, and nonlinear optics. After the introduction, lunch will be served. In four parallel tours, participants will then visit Bifano's lab, which makes and uses deformable mirrors to help find exoplanets and cure eye disease; John Connor's and Selim Unlu's labs, which develop photonic systems that can detect and identify single viruses in patient blood samples; Alice White's lab, in which researchers use the principles of nano manufacturing tocreate scaffolds for new kinds of synthesized biomaterials, and Larry Ziegler's lab, which uses spectroscopic microscopes to fingerprint bacterial pathogens.
A Boston University bus will pick up tour participants at Kresge promptly at 10:30 am for the 10 minute ride to the Photonics Center on BU's main campus. Lunch will be provided.