Time:

Monday, October 12th,

5:30 pm

to

7:30 pm
Location:

320 Charles Street, Cambridge (bus departs from Kresge Lobby)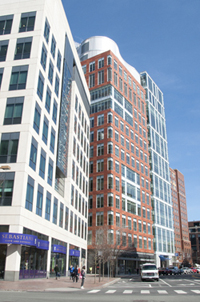 [Updated 8/20/15 to reflect new location] The Broad Institute of MIT and Harvard is an independent, non-profit biomedical research enterprise committed to meeting the most critical challenges in biology and medicine.
Broad faculty members are all faculty members of MIT, Harvard or one of the Harvard-affiliated hospitals. These researchers pursue ambitious projects that cut across scientific disciplines and institutions. Collectively, these projects aim to: assemble a complete picture of the molecular components of life; define the biological circuits that underlie cellular responses; uncover the molecular basis of major inherited diseases; unearth all the mutations that underlie different cancer types; discover the molecular basis of major infectious diseases, and transform the process of therapeutic discovery and development.
In the past year press reports have spotlighted Broad scientists for pioneering the CRISPR-Cas9 genome editing system and for the rapid sequencing and identification of Ebola virus strains in west Africa. Participants in this tour will see Broad Institute's Genomics Platform sequencing facility, and will have the opportunity to mix with Broad researchers at an informal reception.
A bus will meet tour participants promptly at 5:30 pm for the short drive to the Broad Institute's sequencing facility at 320 Charles St., Cambridge.