Time:

Tuesday, October 13th,

9:00 am

to

11:30 am
Location:

450 Brookline Ave., Boston (Bus departs from Hyatt Regency Cambridge)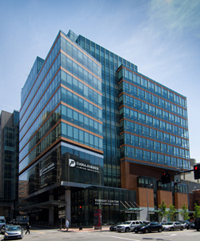 Sidney Farber, M.D., founded the Children's Cancer Research Foundation in Boston in 1947 to provide state-of-the-art treatment to children with cancer and develop better preventatives, treatments, and cures. Later renamed in honor of its founder and its long-term supporter, the Charles A. Dana Foundation, the Dana-Farber Cancer Institute today employs nearly 4,000 physicians, staff, and researchers who are involved in some 700 clinical trials and a wide array of research projects, in areas ranging from cancer immunotherapy and DNA repair to the mapping of the altered genomes of cancer cells, in the hope of finding the mutations that matter most in carcinogenesis.
Participants in this tour will meet with members of Dana-Farber's imaging team and learn about their work to speed up development of new cancer drugs.
Although the pace of cancer innovation and discovery is rapidly increasing, the "bench-to-bedside" translation of innovation and discovery to preclinical testing, clinical trials and clinical practice is still a tedious process that currently takes many years to complete. While some lag time is necessary to ensure safety and efficacy evaluations of a new drug, there may be ways to optimize and hasten these essential steps. Dana-Farber scientists believe that imaging can play a significant role at multiple levels in drug development. During they'll share pre- and post-treatment images acquired on clinical research subjects, demonstrating the value of imaging in precision and personalized medicine by illustrating tumor size, location, and extent of disease; evidence that the tumor (or target) has or has not been "hit" by a drug treatment; and how a clinician can use the images to assess the response to therapy for go/no-go clinical decisions.
A bus will meet the tour group at the Hyatt Regency Cambridge promptly at 9:00 am for the 11-minute ride to the Longwood Medical Area.