Lynn R. Goldman, Estimating the death toll from Puerto Rico's worst natural disaster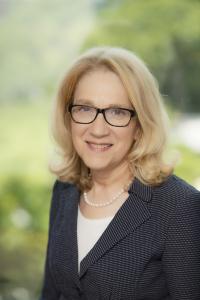 The Michael and Lori Milken Dean, GW Milken Institute School of Public Health
Hurricane Maria is the worst natural disaster on record to affect Puerto Rico, and the tenth most intense Atlantic hurricane on record. In the aftermath of the storm, it was necessary to more accurately estimate the number of lives lost. Join Lynn R. Goldman and Carlos Santos-Burgoa for Lunch with a Scientist, as they speak about the lessons learned from GW's recent study estimating excess mortality in Puerto Rico tied to Hurricane Maria, including ways to prepare for the next hurricane season.
Registration is required (no charge). Limit: 40. This lunch will be held at the Milken Institute School of Public Health, 950 New Hampshire Ave, NW. This event is full.
Lynn R. Goldman's responsibilities as dean are informed by her broad and deep public policy and academic experience. Prior to joining GW in August 2010, she was professor of environmental health sciences at the Johns Hopkins Bloomberg School of Public Health.
Dr. Goldman was assistant administrator for toxic substances in the U.S. Environmental Protection Agency (EPA) from 1993 through 1998 under President Bill Clinton. Under her watch, the EPA overhauled the nation's pesticide laws, expanded right-to-know requirements for toxic releases, reached consensus on an approach to testing chemicals with endocrine-disrupting potential, developed standards to implement lead screening legislation and promoted children's health and global chemical safety. Prior to joining the EPA, Dr. Goldman worked in environmental health for the California Department of Public Health.
A member of the National Academy of Medicine, she has chaired or served on numerous committees and forums. She currently serves on the National Academy of Medicine Council and the Governing Board of the National Academy of Sciences. She serves as a member of the Advisory Committee to the Director of the U.S. Centers for Disease Control and Prevention and a member of the Food and Drug Administration Science Board.
Among many accolades, Dean Goldman received a 2009 Heinz Award, given to innovators addressing global change caused by the impact of human activities. She was awarded alumna of the year by the UC Berkeley School of Public Health, received the Woodrow Wilson Award for Excellence in Government from Johns Hopkins University and was named one of 150 outstanding alumni by the University of California San Francisco. She also received an honorary doctorate from Örebro University in Sweden for her contributions to chemical legislation in the U.S. and Sweden and her influence on the research conducted at the university's Man Technology Environment Research Centre.
Web: https://publichealth.gwu.edu/departments/environmental-and-occupational-health-office-dean/lynn-r-goldman
Speaking: