Carlos Santos-Burgoa, Estimating the death toll from Puerto Rico's worst natural disaster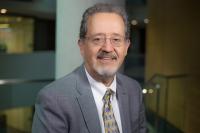 Professor of global health, GW Milken Institute School of Public Health
Hurricane Maria is the worst natural disaster on record to affect Puerto Rico, and the tenth most intense Atlantic hurricane on record. In the aftermath of the storm, it was necessary to more accurately estimate the number of lives lost. Carlos Santos-Burgoa led GW's recent study estimating excess mortality in Puerto Rico tied to Hurricane Maria. Join Santos-Burgoa and Lynn R. Goldman for lunch, where they will speak about the lessons learned from the recent study, including ways to prepare for the next hurricane season.
Registration is required (no charge). Limit: 40. This lunch will be held at the Milken Institute School of Public Health, 950 New Hampshire Ave, NW. This event is now full.
Carlos Santos-Burgoa is raising awareness of the importance for equity and development of the regulatory public health function within health systems and seeking to advance their performance. His emphasis is on Latin-American countries' institutional capacity, and in regional and global health organizations. He has worked on environmental risks (urbanization, air pollution, carcinogens, cancer, and childhood malformations). He is now addressing risk factors for noncommunicable diseases, including tobacco, alcohol, unhealthy diets, and childhood obesity.
Santos-Burgoa practiced clinical medicine and worked in academia, consulting, and management at the national and international level. He was dean of the School of Public Health of Mexico at the National Institute of Public Health, director general of the consulting firm Health Environment and Work Institute, director general at Mexico´s Ministry of Health, and senior advisor and acting department director at the Pan American Health Organization.
Santos-Burgoa is an environmental epidemiologist. He is a graduate of the program for Senior Executive Business Management (AD-2) at the Pan-American Institute of Business Administration (IPADE). He has published in peer-reviewed journals, chapters, institutional technical reports, and books. He is currently a member of the Social Determinants of Health committee at Mexico´s National Academy of Medicine, the International Advisory Board of the National Institute for Clinical Excellence NHS UK, and the Policy Committee for the International Society of Environmental Epidemiology. He participates in numerous national and international professional societies. He is an elected fellow of the National Academy of Medicine of Mexico and of the Collegium Ramazzini. He has received several national and international awards, including the 2006 Distinguished Alumni Award from the Johns Hopkins University.
Twitter: @csantosburgoaz
Web: https://publichealth.gwu.edu/departments/global-health/carlos-santos-burgoa
Speaking: