Rohan Fernandes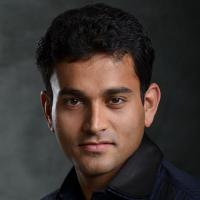 Assistant professor of medicine at the GW School of Medicine and Health Sciences and researcher at the GW Cancer Center
Neuroblastoma is the third leading cause of cancer-related death among children, accounting for 10–15 percent of pediatric cancer deaths. Rohan Fernandes and his team at the GW Cancer Center have engineered a "nanoimmunotherapy," which combines the benefits of nanoparticles with a class of immunotherapy called checkpoint inhibitors, for treating neuroblastoma. During Lunch with a Scientist, Fernandes will discuss the status of nanoimmunotherapy for neuroblastoma and how it can improve prognosis for patients with high-risk cancer.
Registration is required (no charge). Limit: 20. This event is now full.
Rohan Fernandes focuses on "immunoengineering" for cancer and infectious diseases. A particular focus area is the synthesis of nanoparticles that can be used to elicit robust responses from the immune system for the treatment of diseases, particularly disseminated cancer. Fernandes' current research focuses on neuroblastoma, a solid tumor cancer that accounts for 10–15 percent of pediatric cancer deaths. Most recently he is PI on a grant from the Alex's Lemonade Stand Foundation to investigate the use of nanotechnology to improve treatment and prognosis for neuroblastoma patients. Fernandes received his PhD from the University of Maryland and completed his postdoctoral training at Johns Hopkins University. He has authored 29 publications, and his work has been cited in top journals in the fields of bioengineering and nanotechnology including Nature Nanotechnology, ACS Nano, Small, and Nanomedicine. He is an inventor on several patents and is the founder of ImmunoBlue, LLC, a small business established to clinically translate and commercialize technologies developed by his group at GW.
Web:
http://www.gwumc.edu/smhs/facultydirectory/profile.cfm?empName=Rohan%20Fernandes&FacID=2076620212
https://fernandeslab.weebly.com/
Speaking: