José G. González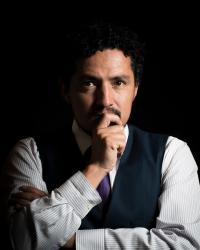 Founder, Conservation Cultura, Sacramento, Calif.
José González is an educator, illustrator, and conservationist, and he is the founder of Latino Outdoors, a national nonprofit organization working to connect Latinx communities in the U.S. with a diversity of outdoor experiences. José was named one of the "Grist 50: The 50 People You'll Be Talking About in 2016" by Grist.org, and his commentary on diversity and environmental outreach has been featured by High Country News, Outside, Earth Island Journal, Latino USA, the Sacramento Bee, R.E.I., and the Sierra Club. José has been engaged in collaborations with the California State Legislature, as well as the White House Council on Environmental Quality, U.S. Department of Interior, and the National Park Service during the Obama Administration. He received the 2015 National Conservation Education Award from the National Wildlife Federation and the 2016 Rising Leader Award from the Murie Center.
As an educator, José has broad experience spanning K-12, postsecondary, and informal settings. He received his M.S. in natural resources and environment from the University of Michigan School for Environment and Sustainability (SEAS), and completed his teaching credential coursework in bilingual multicultural education at California State University, Sacramento. As a public school teacher, José has taught courses for at-risk youth, and at middle school and high school levels. As adjunct faculty at the National Hispanic University, he has taught courses on science methods and math methods at the Teacher Education Department. And as a program coordinator with the California Mini-Corps Program, he trained and led undergraduate students to provide instructional services to migrant students in California school districts and in outdoor education programs.
José is now an outdoor engagement and cultural competency consultant and the founder of Conservation Cultura, which seeks to create a pooled philanthropic fund to disburse grants catalyzing outdoor and environmental engagement projects serving U.S. Latinx communities.
José was born in Mexíco and emigrated to California as a child.
Twitter: @JoseBilingue
Speaking:
Saturday, October 13th,

10:15 am

to

11:45 am