Diana Burley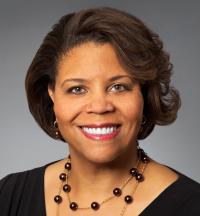 Executive director and chair of the Institute for Information Infrastructure Protection (I3P), and professor of Human and Organizational Learning, GW Graduate School of Education and Human Development
Global society is threatened daily by cybersecurity breaches that cause privacy violations, financial losses, catastrophic failures in critical infrastructure, and even death. Yet we face massive cybersecurity workforce shortages worldwide, lacking people who think critically, recognize patterns, efficiently analyze data, discard preconceptions, and focus deeply. During Lunch with a Scientist, join cyberworkforce expert Diana Burley to discuss ways to address the global cybersecurity workforce shortage.
Registration is required (no charge). Limit: 20 This event is now full.
Diana L. Burley is a globally recognized cybersecurity workforce expert who regularly advises the public and private sector on cybersecurity policy, education and workforce development initiatives. She has testified before the U.S. Congress; conducted international cybersecurity training; and written more than 90 publications on cybersecurity, information sharing and IT-enabled change. She co-chaired the joint task force that recently published the first set of global cybersecurity curricular guidelines on behalf of the world's leading computing societies. In 2017, SC Magazine recognized her as one of 8 Women in IT Security to Watch and awarded her with their leadership award in IT Security Education. She is a member of the U.S. National Academies Board on Human-Systems Integration, and in 2014, she co-chaired the National Academies study on professionalizing the nation's cybersecurity workforce. Prior to GW, Burley led the Cyber Corps program and managed a multi-million-dollar computer science education and research portfolio for the U.S. National Science Foundation. Other honors include: 2016 Woman of Influence by the Executive Women's Forum in Information Security, Risk Management and Privacy; 2014 Cybersecurity Educator of the Year; and 2014 Top Ten Influencer in information security careers. She earned her doctorate and two master's degrees from Carnegie Mellon University where she studied as a Woodrow Wilson Foundation Fellow in public policy and management.
Email: dburley@gwu.edu
Web: https://gsehd.gwu.edu/directory/diana-burley
Speaking: