Claudia Pineda Tibbs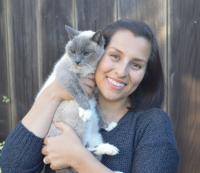 Conservation and science planning and operations manager, Monterey Bay Aquarium, Monterey, Calif.
Claudia P. Tibbs is a bilingual, bicultural eco-Latina living on the central coast of California, working towards bilingual science communication and conservation. Throughout her work and personal life, Claudia strives to create a culture that encourages creative problem-solving, collaboration, and inclusivity in order to empower members of the global community to do great things on behalf of our ocean. Claudia's professional experiences and personal interests are rooted in the intersectionality between marine science, conservation, culture and storytelling.
In her longtime roles in bilingual education and outreach at the Monterey Bay Aquarium, Claudia has worked to empower students and teachers to take action on behalf of the ocean all the while facilitating activities and experiences to help them develop their own environmental identity. Claudia has been featured on local and national English and Spanish-language programing such as the Disney Channel and "¡Despierta América!" on Univision. Claudia has served as a contributing writer for the National Resource Defense Council's Spanish language blog, "La Onda Verde" and launched the Monterey Bay Aquarium's Spanish-language Facebook page, "Tu Monterey Bay Aquarium", resulting in the first Association of Zoos and Aquariums (AZA) accredited institution to have a bilingual social media presence. Claudia has advised the Aquarium on culturally and developmentally appropriate messaging to maintain Spanish-language consistency, resulting in more powerful and emotional experiences for guests to deepen their connection to the ocean and further the aquarium's reach on and off-site.
Before joining the Monterey Bay Aquarium, Claudia held various community outreach and multicultural education positions along the central coast of California. Claudia received her B.S. in earth systems, science and policy with a concentration in marine and coastal ecology from the California State University, Monterey Bay. Claudia attributes her passion for environmental advocacy, environmental justice issues and passion for education to her high school science teacher, Ms. Stevens from South Gate High School.
Claudia is now the conservation and science planning and operations manager at the Monterey Bay Aquarium, where she oversees the organization's progress towards more sustainable business operations and encouraging employee involvement in achieving sustainability goals related to zero carbon emissions and zero waste.
Twitter: @LaEcoLatina
Speaking:
Saturday, October 13th,

10:15 am

to

11:45 am