Allison Eck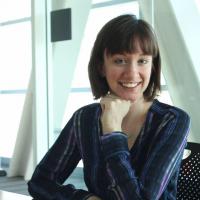 Digital editor, NOVA, Boston, MA
Allison Eck is a digital editor at NOVA, where she reports, writes, and oversees strategy for a weekly email newsletter, NOVA Lens. In addition, she reports stories on climate change and environmental science for NOVA Next, NOVA's longform digital science magazine. On the side, Allison has written for such publications as Nautilus Magazine and Nieman Storyboard. She is a member of the National Association of Science Writers and serves on the Board of Directors of the Cambridge Symphony Orchestra. She graduated from Hamilton College in 2012 with degrees in comparative literature and physics.
• Allison is looking for pitches related to climate change—particularly stories that take a positive, "can-do" approach to the challenge of an anthropogenically warming world. She hopes to attract writers who would like to combat traditional narratives about climate change and bring clarity to this complex and, for some, personal issue. At NOVA, we believe science stories are human stories, so people-centered pitches are encouraged.
• NOVA Next feature stories are typically 1800-2000 words in length.
• NOVA prides itself on its reputation for providing rigorous science journalism. Freelancers are held responsible for thorough fact-checking.
Speaking: