Adrienne Samuels Gibbs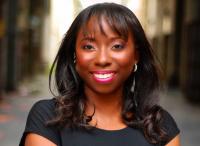 Writer/editor, Forbes, Pitchfork, Essence, American Craft, Chicago, Ill.
Adrienne Samuels Gibbs is a Pulitzer-nominated journalist whose Forbes column focuses on the intersection of arts, culture and money. She is a freelance editor for NBC News and, in the past, has been the senior editor and managing editor for Ebony, and a features writer for the Chicago Sun-Times, the Miami Herald, and the Boston Globe. Her work has also been published in Pitchfork, Vice, Essence, Chicago, Good, the Art Institute of Chicago and American Craft. She lives in Chicago, Ill.
Twitter: @adriennewrites
Speaking: