Gaius J. Augustus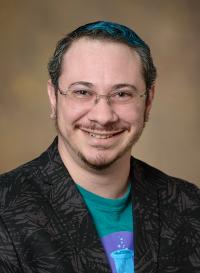 Freelance multimedia science communicator, Tucson, Ariz.
Gaius (pronouns he/him/his or they/them/their) is a multimedia communicator specializing in creating infographics and animations to make science more visual. After formal training in fine arts and video production, Gaius shifted his focus to science. He received his Bachelor's of Science in integrative studies with a focus on chemistry and biology and his Ph.D. in cancer biology. Now, he is putting it all together, using visual storytelling to create accessible and engaging science experiences.
In addition to his science communication work, Gaius is a female-to-male-ish non-binary transgender person who shares his experiences with mental illness, poverty, and intersectional identity to advocate for a more inclusive world.
Twitter: @GaiusDiviFilius
Email: gaiusjaugustus@gmail.com
Speaking: