Aleszu Bajak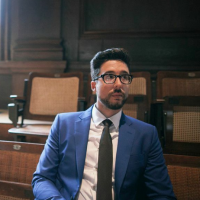 Aleszu Bajak is a senior writer at Undark, a magazine exploring the intersection of science and society based at the Knight Science Journalism Program at MIT. Bajak himself was a MIT Knight Science Journalism Fellow in 2013, where he examined the interface between journalists, designers and developers. He also teaches journalism at Northeastern University and Brandeis University.
Bajak is also the founder and editor of Storybench.org, an under-the-hood guide to digital storytelling, and is the creator of LatinAmericanScience.org, a resource for science news and opinion out of Latin America. In 2010, he launched Ciencia Cierta, a Spanish language blog for the public radio show, Science Friday.
Bajak has reported across the Americas and been published in the Washington Post, the Boston Globe Magazine, Esquire, Nature, Science, New Scientist, Beer Advocate, and Guernica, among other outlets. The son of a Peruvian artist and an American foreign correspondent, Bajak grew up in New Jersey, Germany, and Colombia and has lived in Chile, Peru, and Argentina.
Aleszu Bajak can be reached via Twitter at @aleszubajak. Follow Undark at @undarkmag.
Speaking:
Saturday, October 29th,

9:30 am

to

10:45 am