The countdown has begun for ScienceWriters2016!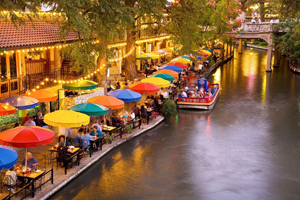 We are less than 3 months away from ScienceWriters2016, and we hope to see you October 28 through November 1 in San Antonio, Texas, at the beautiful Omni La Mansión de Rio. Our scientific community has been working hard to put together an exciting weekend of learning and fun. This year's conference has been organized by dozens of local institutions and companies in an effort to bring you the most diverse programming possible. Here are some of the opportunities you won't want to miss:
We are confident that you will leave San Antonio with not only the latest knowledge on the groundbreaking scientific developments researchers and companies are leading in the Alamo City, but also an appreciation for the unique history and the vibrant city life in San Antonio. We also hope you walk away with a deeper scientific and professional network.
Be sure to visit this blog and stay up to date on important information regarding registration, workshops, lab and city tours, travel accommodations and other happenings during the conference. We'll also provide information on what to see and do around the city to make sure you take full advantage of what's going on in San Antonio throughout your stay.
We look forward to seeing you in the Alamo City!
Lisa Cruz
Texas Biomedical Research Institute
*