Innovation at Acelity: Making better products to improve patients' lives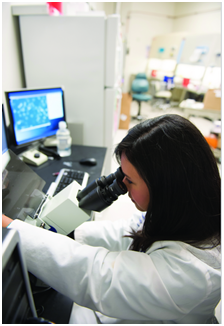 The same word can mean different things to people with different backgrounds or skill sets.
Let's take the word "innovation":
To an engineer, it might mean a new invention.
To a biologist, it could refer to a breakthrough in the lab.
To a project manager, it may be a new way to encourage collaboration.
At Acelity, innovation means transformation, breakthrough solutions, new methods, positive change. All of this is done with a patient-centric focus. In our global Research & Technology facilities, one of which is located right here in San Antonio, we propel our innovation forward through collaboration. Innovation starts with our employees working together to advance the science of medicine and extends to our partnership with clinicians around the world. As a result, we develop product concepts that help improve clinical outcomes and reduce the cost of care.
The science behind Acelity's innovation
If you've signed up for the Acelity tour on Sunday, Oct. 30, from 1:30 to 3:30 p.m., you'll get a behind-the-scenes look at our San Antonio Innovation Center, where you will see how Acelity creates and tests the next generation of innovative, advanced wound therapy products, assesses how experimental therapies impact healing, and leverages usability engineering labs to educate clinicians and employees on our products.
Also on Sunday, from noon to 2:00 p.m., you can have lunch with our scientists and learn more about our focus on military medicine and the advances we're making in technology for wounded soldiers.
Whatever you decide, we hope you walk away with a greater understanding of the innovative science happening in San Antonio. We look forward to seeing you at this year's conference and hope you enjoy your stay in historic Alamo City!

Kris Kieswetter
Acelity, Senior Director Research & Technology, Ph.D., M.B.A.
www.acelity.com
Connect with Acelity on Twitter, LinkedIn, Glassdoor and Facebook

*