About
Photo: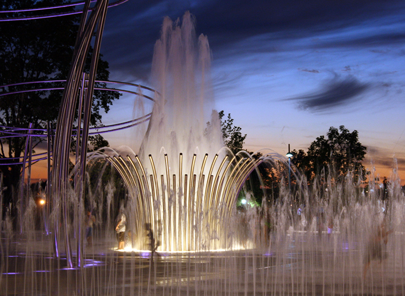 The annual ScienceWriters meeting is a joint meeting of the National Association of Science Writers and the Council for the Advancement of Science Writing. A mix of professional development workshops, briefings on the latest scientific research, extensive networking opportunities, and field trips, it is a meeting for science writers, by science writers, with content to appeal to both the newest writers and seasoned professionals. The location varies each year based on the host institution, providing access to science writers in all parts of the United States.
In 2014, we are meeting in Columbus, Ohio, from October 17-21. Mark your calendars and plan to stay an extra day or two to take it all in.
For a full schedule and program listing, visit the Schedule page.
Columbus is the state capital and Ohio's largest city. It is a three-hour drive from Pittsburgh, Detroit and Indianapolis, and about six hours by car from Chicago and Washington, D.C., at the crossroads of Interstates 71 and 70.
You'll be staying in the city's historic Short North neighborhood, which the New York Times said is "challenging all preconceived notions of what passes for cool in the Midwest."
 
The city is home to a top-rated zoo, multiple retail brand headquarters and, of course, Ohio State University, one of the country's largest single campuses and most comprehensive research institutions. Beyond the Buckeyes, it provides home ice for the National Hockey League's Blue Jackets and constructed Major League Soccer's first soccer-specific stadium, in 1999, for the Columbus Crew.
Columbus has been dubbed a "breakfast mecca" thanks to the Breakfast with Nick blog. The city contributes to Ohio's No. 4 rank in the country for craft beer production, and boasts the award-winning Jeni's Splendid Ice Creams, complete with ingredients that include cayenne, sweet corn, goat cheese and sweet potatoes. All this interest in food and drink has led to the city's ranking as the third happiest city in the United States based on an evaluation of Instragram photos (No evidence for cause and effect? Who needs it?). Eighty-five percent of first-time visitors say they are likely to visit Columbus again — statistically, that will include hundreds of science writers!
Average autumn temperatures are a high of 65 and low of 45 degrees, but, this being Ohio, it's best to check before you pack — both 90-degree temperatures and snow have been recorded in October here.