Jennifer Bogo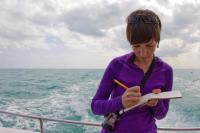 Articles editor, Popular Science
Jennifer Bogo is the articles editor at Popular Science, where she orchestrates coverage on topics ranging from medical breakthroughs and space exploration to advances in alternative energy and robotics. Stories she edited have won a National Magazine Award and been included in The Best American Science Writing and Best American Science and Nature Writing anthologies. She's appeared on radio and television programs, including NPR, MSNBC, CNBC, NBC Nightly News, and Fox Business, to discuss topics such as green design, asteroid defense, and solar storms. She's also traveled to research stations from the Arctic to the Antarctic to write science stories herself.
Here's how to pitch Jennifer:
I edit feature stories for Popular Science. Our sweet spot is the intersection of science and technology, and we especially want future-forward (but not back-of-the-napkin), solutions-oriented angles. We cover a broad range of topics and also look for various formats, including narratives, short profiles, and smart packages. Writers who can come up with compelling, timely angles for a package story (think "25 Geek Road Trips" and "How Neuroscience Will Fight 5 Age-Old Afflictions") and write concisely will always find work with us. If you want to break into Popular Science, or have pitches on discrete pieces of research or trends, sign up for time with Susannah Locke, who will also be in this session.
Contact: jennifer.bogo@bonniercorp.com
Speaking:
Saturday, November 2nd,

11:00 am

to

12:15 pm

Saturday, November 2nd,

9:15 am

to

10:30 am