Natalie M. Batalha, Ph.D.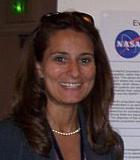 Position/Organization:

Professor of physics and astronomy, San Jose State University
Natalie Batalha thought she wanted to follow her parents into a business career until she got to college and encountered freshman physics. "What impressed me was how ordered the universe is," she says. "When you internalize that fact, you begin to fully realize the beauty of it." As part of her work on the Kepler mission, she was responsible for the selection of the more than 150,000 planets that Kepler monitors for evidence of planets.
Speaking:
Monday, October 17th,

2:30 pm

-

3:30 pm