Luba Ostashevsky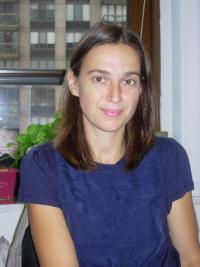 Position/Organization: Macmillan Science
Luba Ostashevsky is editor at Macmillan Science, a popular science imprint at Palgrave Macmillan that gives a voice and platform to top scientists and journalists. Recent titles include Second Nature by animal behaviorist Jonathan Balcombe that explores the inner lives of animals; The Power of the Sea by oceanographer Bruce Parker about monstrous waves and our millennial long struggle to predict marine behavior. Upcoming titles include a book on the connection between our emotions and sleep and a new story of our evolution by the curator of the anthropology wing at the AMNH. Our titles are regularly reviewed in New Scientist, Scientific American, Science, Discover, the NYT Science Times, and our authors interviewed on NPR.
What I'm looking for in book projects:
Today science is at the core of our lives and we rely on a basic understanding of scientific facts in order to grasp a wide range of issues-- from what attracts us to a romantic partner to how we parent; from what it takes to save our planet from global warming to the chemistry of the food we put into our bodies; from stem cell research to the science of our mental health. You can say we're a culture girded by science-- and it follows that consumers would be interested in books on these topics to help them grapple with the world around them. Macmillan Science publishes titles for the general educated reader by authors who are either research scientists or top notch journalists. The goal of a Mac Sci book is to instill in the reader a sense of wonder and amazement about the natural world and give them the context to understand their own.
Speaking:
Saturday, November 6th,

11:15 am

-

12:45 pm